Kachelja
Capital:
Population:
Alignment:
Life and Society:
While the Kachelja are known to be great warriors, the family is considered the key unit of Kachelja life. Children, called "Wakanisha" (Waka meaning sacredness) are of primary importance to the Kachelja family and are therefore the center of attention.
While monogamy was the norm, Kachelja men had the ability to take on more than one wife. The roles of men and women were clearly defined. While the men were expected to provide for and defend the family by hunting and making war, the women were the matriarchs, ruling the family life and the domestic life of the tepee. When a man married a Kachelja woman, it was expected that he would move into her home.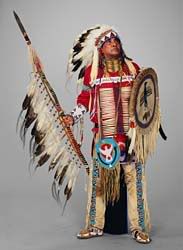 Religion:
The Kachelja were a deeply spiritual people, who communed with the spirit world through music and dance. The Sun Dance was considered one of the most religious ceremonies of the Kachelja. This twelve-day summer ritual of self-sacrifice was a testimony to individual courage and endurance in serving the Great Spirit. As a shared experience among men, the Sun Dance also instilled a sense of tribal unity. By dancing and enduring the pain of self-inflicted wounds, each participant reasserted his identity as a Kachelja warrior.
Going on the war path was part of a rite of passage for males. War was the underlying principle of the Kachelja people, because through it men gained prestige, and their prestige was reflected in the family honor.
Government:
The Kachelja are a nation made up of thirteen smaller tribes, united by similar beliefs into a loose confederacy.
For the Kachelja , the title of Chief was viewed as a medal earned for outstanding performance during times of war or peace. To be Chief was considered an honorary title. It did not mean, however, that the Chief was solely "in charge" of his people. Rather than a linear chain of command, they traditionally ruled by unanimous vote of a council of Chiefs of "Headmen" from a variety of bands. Decisions made by the council served to guide rather than command the people.
Jadrosrir
Taithochkos
Rskalun
Chakan
Sundiku
Sundirra
Iskistan
Arresh
Etzayin
Jajaqa
Yithiru
Shuyarja
Krolan
Economy:
Imports:
Exports:
Currency:
Major Geographic Features:
Important Sites:
Diplomatic Relations:
Current Events:
Character Creation Info:
Languages:
Regional Feats:
Regional Weapons:
Notes:
---
---
Done By -
Zyanya